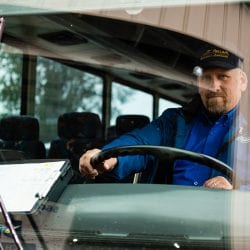 Bellair Charters / Airporter Shuttle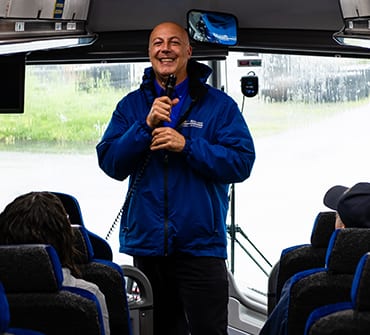 Do you enjoy exploring? Experiencing the world around  you? Combine that passion with your career and achieve the job fulfillment you've been seeking! As a Charter Driver, you'll explore the Pacific Northwest, British Columbia and beyond in your mobile office – a luxury motorcoach – as you fulfill the travel needs of our guests.
When driving charter clients, you'll be working with universities, public schools as well as private businesses, sports teams and much more. Our charter clientele is as diverse as it is exciting. No matter the group of passengers, you'll find it a rewarding experience getting each group safely from departure to destination. This position is a rewarding employment experience for those who thrive in a dynamic environment and can consistently deliver high-caliber customer service.
Wage starts at $19.00 per hour after training – for great customer service, you have the potential to earn $2-$10 more per hour on any given day in tips!
ESSENTIAL FUNCTIONS
Reasonable Accommodations Statement
To perform this job successfully, an individual must be able to perform each essential duty satisfactorily. Reasonable Accommodations may be made to enable qualified individuals with disabilities to perform the essential functions.
Excellent communication and customer skills required.
Must be professional by presenting a clean, neat appearance.
CDL A or B as well as a passenger endorsement is required. We can help you obtain the necessary licensing, if needed.
A safety first attitude
Ability to work independently, a self-starter
Multi-tasking skills
A love of driving
Being a people person, seeking to meet the needs of others
Ability to use a wheel chair lift to assist passengers in wheel chairs on and off the bus. This involves pushing and pulling the chair in place and securing it with tie-downs.
Must be able to physically sit for long periods of time.
Should be able to enter and exit the bus easily.
SKILLS & ABILITIES
Education: High School Graduate or General Education Degree (GED)
Experience: Six months to one year related experience
Computer Skills: Very basic computer skills needed for this position
Certificates & Licenses: Current Commercial Driver's License, Class A or B, with a Passenger Endorsement. DOT physical required and ability to provide current medical card and long form. 7 year driving abstract required.
PHYSICAL DEMANDS
Ability to sit constantly and lift, push, and pull 50-100 pounds occasionally.
Other Physical Requirements: Vision and sense of sound (Near, Distance, Color, Peripheral, and Depth Perception) as per DOT physical requirements.
WORK ENVIRONMENT
Drivers will spend the majority of their working hours inside the bus. When they reach their destinations they will be required to be outside to check passengers in and out and take care of the passengers luggage needs.
Let the adventure begin…come drive for us!