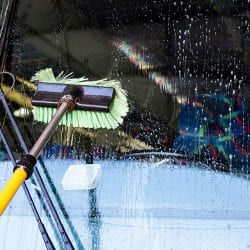 Website Bellair Charters / Airporter Shuttle Bellair Charters / Airporter Shuttle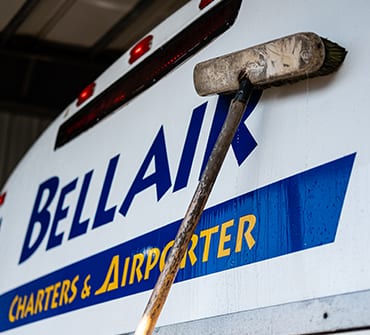 Make Bellair Charters / Airporter Shuttle sparkle! Be an integral part of the company's success as a Bus Detailer on a team of extraordinary professionals responsible for keeping the fleet always looking its best. Bellair motorcoaches and mini buses are some of the nicest and cleanest vehicles driving the roads. The detailer team plays a vital role in keeping the fleet pristine and ready to serve the next group of passengers.
No experience is necessary, however, the successful candidate will have an eye for detail, work well within a team and thrive in a physically demanding job. Although a behind-the-scenes role, our guests and fellow co-workers will see your hard-work every day at the bus yard and on the road.
If you like your work to shine and like to "work out at work," then apply today!
Wage starts at $15.00 per hour with increases as you develop your skills as a detailer!
ESSENTIAL FUNCTIONS
Reasonable Accommodations Statement
To perform this job successfully, an individual must be able to perform each essential duty satisfactorily. Reasonable Accommodations may be made to enable qualified individuals with disabilities to perform the essential functions.
Wash buses, vans, and other company vehicles including wheels, windows, and general exterior.
Wash and clean interior of buses, vans and other company vehicles including windows, restrooms, floors, seats, driver's area, and other areas of the interior as needed.
Must be able to be on feet, without sitting, for long periods of time.
Have ability to bend, twist, stoop, and reach consistently.
Good internal and external customer service.
Able to take direction and work independently with strong follow through.
A bit of a "neat freak"
Team player
Possess a valid WA Drivers License
A clean driving record
Willing to drive mini-buses and motor coaches in bus yard
SKILLS & ABILITIES
Education: Less than high school education
Experience: No prior experience necessary
Computer Skills: Basic computer skills required for clocking in and out on computer.
Certificates & Licenses: Current Washington State Driver's License
Other Requirements: Detailing experience preferred.
PHYSICAL DEMANDS
Ability to frequently lift, push, and pull 10 pounds, and occasionally lift, push and pull 10-50 pounds.
Other Physical Requirements: Ability to wear Personal Protective Equipment (PPE) (eye protection, gloves)
WORK ENVIRONMENT
Detailers work in a protected, climate controlled, wash bay, but will be exposed to natural weather conditions frequently. Doors can be open during warm seasons and closed during cold seasons. Often Detailers work independently.