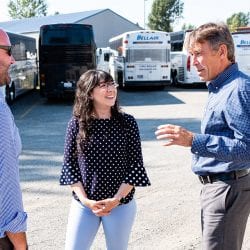 Bellair Charters / Airporter Shuttle
POSITION SUMMARY: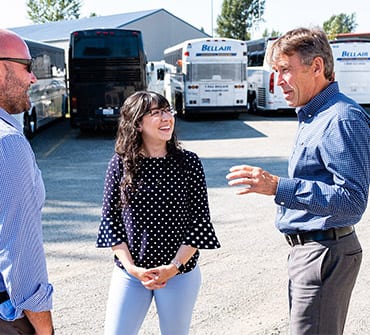 Bellair Charters / Airporter Shuttle has an exciting opportunity in our Ferndale office! The Operations Manager is responsible for the effective supervision of many aspects of the Ferndale, WA location as well as interaction with our other locations. These supervision duties include, but are not limited to: dispatch, our fleet mechanic shop, and our driving management team. Coaching and evaluation, administration tasks, record-keeping and strategic planning to meet company objectives are all necessary skills we are looking for. The Operations Manager must be organized with excellent follow-through on projects. This position must also enjoy and look forward to a variety of duties and have the ability to promote a positive, can-do company culture.
The Operations Manager must be a servant leader that offers support and encouragement to staff including drivers, mechanics, detailers and office staff and can convey clear expectations and company policies. This position will provide guidance and disciplinary action as needed to ensure a prosperous work environment and hold employees to our company's clear expectations.
ESSENTIAL FUNCTIONS:
Reasonable Accommodations Statement
To perform this job successfully, an individual must be able to perform each essential duty satisfactorily. Reasonable accommodations may be made to enable qualified individuals with disabilities to perform the essential functions.
Must have excellent internal & external customer service skills and model these skills to subordinate staff.
Must be an effective team leader and able to work well with diverse personalities
Must be logic driven with the ability to evaluate, plan and implement solutions that improve service to customers and the profitability of the company.
Must be willing to lead by example.
Must have excellent communication skills
Will play an integral role in hiring decisions
Must be willing to obtain a CDL license, stay current with CDL requirements, and be able to successfully complete annual testing to comply with company standards
Must be able to successfully pass a pre-employment drug test and background check prior to commencement of employment
EDUCATION/EXPERIENCE REQUIREMENTS:
College graduate or equivalent leadership experience
10 years of related operations experience.
Basic accounting knowledge preferred.
CDL Class "A" or "B" with P1 endorsement or military equivalent or willingness to obtain
Good safety record and driving abstract
Knowledge of DOT regulations
Other Physical Requirements: vision and sense of sound (Near, Distance, Color, Peripheral, and Depth Perception) as per DOT physical requirements for CDL license
COMPETENCY QUALIFICATIONS:
Active Listening – ability to attend to and understand the comments and questions of others
Computer Knowledge – must work well with computer systems and have an aptitude for learning new programs. MS Office is a must.
Management Skills – ability to organize and direct oneself and effectively supervise others
Organization – recognize the importance of record-keeping and recognizing how to prioritize task completion
Safety Awareness – ability to identify and correct conditions that affect safety of others
Team Builder – ability to convince staff to work toward common goals.
Job Type: Full-time
Pay: $55,000.00 – $80,000.00 per year