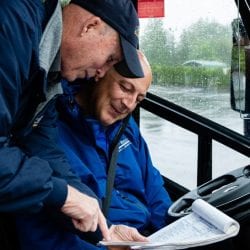 Bellair Charters & Airporter Shuttle
The Ferndale Training Manager at Bellair Charters & Airporter Shuttle will seek to ensure all of our  drivers are trained to have a safety-first mindset and will support the company's safety standard alongside the Driver Manager.
This position generally helps the Driver Manager keep the department running smoothly by taking on some managerial tasks, such as helping to oversee the drivers and/or detailers, so tasks may be added or subtracted at the discretion of the Operations Manager. The Training Manager will play an integral role in ensuring the department will meet its goals.
The Training Manager position is a full time, regular position that works mainly out of the Ferndale office, however, some travel may be required to accomplish company objectives. The Training Manager will drive 2 days regularly as a driver on the schedule. The rest of the schedule will be discussed at the time of the interview.
The Training Manager is a part of the Training Department, and will report directly to the Operations Manager in Ferndale.
Salary is $45,000 to $55,000 per year depending on qualifications.
ESSENTIAL FUNCTIONS
Reasonable Accommodations Statement
To perform this job successfully, an individual must be able to perform each essential duty satisfactorily. Reasonable Accommodations may be made to enable qualified individuals with disabilities to perform the essential functions.
Assist the Driver Manager in planning and implementing strategies to improve the department
Follow up on incidents and accidents in a timely manner with the full report submitted to the Driver Manager
Help coach all drivers to follow company standard operating procedures and safety standards
Regularly review driving skills of drivers  by reviewing their camera chips and conducting ride-a- longs – coaching and retraining when needed
Take ownership in maintaining cameras in all vehicles in the fleet
Qualify drivers in all buses and upgrade them when necessary
Qualify bus detailers in all vehicles
Conduct specialized trainings – wheelchair lifts, winter driving, basic training week, basic CDL training, and divisional training
Participate in driver interviews and road tests as needed – assisting with hiring decisions
Roll out monthly emphasis trainings as directed by the Driver Manager
Facilitate shop training for all drivers to be conducted by the Fleet Manager
Gain strong understanding of ELD system and manage/maintain all  drivers' logs and post trip reports; retraining when needed
Participate in quarterly driver safety meetings, involving as many drivers as possible – posting trainings for those who cannot be present
When necessary, go through progressive disciplinary action with drivers
Assist Operations Manager as needed with driver scheduling and PTO disbursements
Maintain driver training records and qualifications
Build rapport with drivers and contribute to the positive work environment
Communicate with all employees clearly and in a professional manner
Possess a CDL A or B with a Passenger Endorsement in order to be a back-up driver and be prepared to cover shifts as necessary
Flexibility to work every day and adjust to a changing schedule
Conduct other duties as assigned by the Driver Manager
SKILLS & ABILITIES
Education: High School Graduate or General Education Degree (GED). AA and/or Bachelor's Degree (preferred)
Experience: Three to five years related experience. Transportation background a plus
Computer Skills: Adequate typing and computer skills required. Basic office suite experience required.
Certificates & Licenses:  Commercial Driver's License, Class A or B, and Passenger Endorsement.
Other Requirements: Pass a pre-employment drug test and criminal background check upon offer of employment. Pass a DOT physical. Pass a company road test and become certified to drive all company vehicles. Proven ability to successfully perform safety sensitive functions. Good safety record and driving abstract. Ability to train, influence, and motivate team members.
PHYSICAL DEMANDS
Ability to sit constantly and lift, push, and pull 50-100 pounds occasionally.
Other Physical Requirements: Vision and sense of sound (Near, Distance, Color, Peripheral, and Depth Perception) as per DOT physical requirements.
WORK ENVIRONMENT
Drivers will spend the majority of their working hours inside the bus. When they reach their destinations they will be required to be outside to check passengers in and out and take care of the passengers luggage needs.