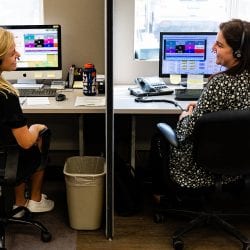 Bellair Charters & Airporter Shuttle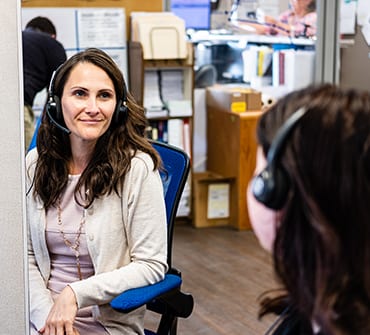 Be an ambassador for the Bellair Charters / Airporter Shuttle brand as a Reservation Agent, where the engaging service you provide over the phone and in person will make our guests feel valued and reflect the exceptional service they will receive throughout the entirety of their travel to come.
As a Reservation Agent, you'll assist customers from around the world with their travel arrangements to and from SeaTac Airport from locations across Washington State. As the first point of contact between our company and our guests, you'll answer phone calls, create bookings, take payment, answer emails and much more. If you thrive in providing professional, friendly and engaging service, this position might be the perfect fit for you!
Wage starts at $14.00 per hour with increases as you develop your skills as a reservation agent!
ESSENTIAL FUNCTIONS
Reasonable Accommodations StatementTo perform this job successfully, an individual must be able to perform each essential duty satisfactorily. Reasonable accommodations may be made to enable qualified individuals with disabilities to perform the essential functions.
Must have the ability to sit for long periods of time.
Should have the ability to communicate and problem solve effectively over the phone and in person.
Must have Excellent Customer Service Skills including, but not limited to, patience, kindness, directness, desire to help and serve, and, most importantly, the ability to listen to what the customer needs and wants.
Must be able to read, write, speak and understand English.
It is required that Reservation Agents be at least 18+ years of age.
It is required that all Agents be proficient in typing and are computer literate.
It is imperative that Agents are punctual. Arriving late for scheduled shifts has a negative impact on coworkers and customers.
Must have the ability to learn and understand our destination abbreviations as well as our various shuttle schedules and fare rates.
Should have the ability to follow the policies and procedures of the Reservations Department.
Modest dress code must be adhered to. Agents must be willing to dress daily in business-casual wear. No jeans, sleeveless shirts, sweats etc.
Must be capable of working well independently as well as in a team environment.
Ability to work PT to FT hours during a day/mid shift with some weekend availability required.
POSITION QUALIFICATIONS
Education: High School Graduate or General Education Degree (GED)
Experience: Six months to one year related experience
SKILLS & ABILITIES
Computer Skills: Microsoft Office Suite. Must be proficient at basic computer skills and have the ability to learn new programs quickly.
PHYSICAL DEMANDS
The ability to lift up to 20 pounds.Type, sit, and stand for extended periods of time.Complete a drug screen and a background check as part of the employment process.
WORK ENVIRONMENT
This position will work in an indoor, open office environmentEnvironment can prove to be noisy at times and successful candidates should be able to "tune out" some of the surrounding noise and distractions while simultaneously focusing on the priority at hand.